mary claire loves when gogo is over. these two have been pals since diaper days. we could tell stories forever! you got to love mary claire's night shirt. this bedazzled cat shirt comes with a hilarious story involving my friend kelly, key west and indecent exposure. i am placing it on my blogging to do list!
tonight the girls were begging for brownies.
but cookies are my thing!
(easy and gluten free and easy)
i usually avoid recipes that call for shortening, but something about trans-fat makes a cookie delish!
Aunt Alecia's Famous Chocolate Chip Cookies
Ingredients
1 cup butter-flavored shortening
1 cup granulated sugar
1 cup brown sugar
3 extra-large eggs
1 tablespoon hot water
1 teaspoon salt
1 teaspoon vanilla
1 1/2 teaspoons baking soda
3 1/2 cups flour
2 cups chocolate chips
Directions
Beat together the shortening and both sugars. Add eggs and beat for 5-6 minutes until the batter is very light in color. Mix in the hot water, salt, vanilla and baking soda. Add the flour and chocolate chips at the same time and mix until combined.
Bake at 350 degrees F until edges of the cookies are very lightly browned, 10-12 minutes.
http://www.melskitchencafe.com/2008/07/aunt-alecias-famous-chocolate-chip-cookies.html
our new whole foods carries it .
it's the best $20 a celiac gal with a serious sweet tooth can spend!
you cannot tell a difference, i promise.
and they taste good enough to be famous!
kick your feet up on the counter good!
i would really love to try making these.
salted peanut butter cup cookies
they sound heavenly and difficult to make.
the reviews by this blogger are fabulous... which means a lot because she has some awesome cookie recipes.
i'm afraid the two flour combination will not transfer over to the one flour i can tolerate. yes, i could always make them for my family who is not all gluten free... but it is guaranteed i could not resist.
i would love to know if you accept the challenge and make these guys!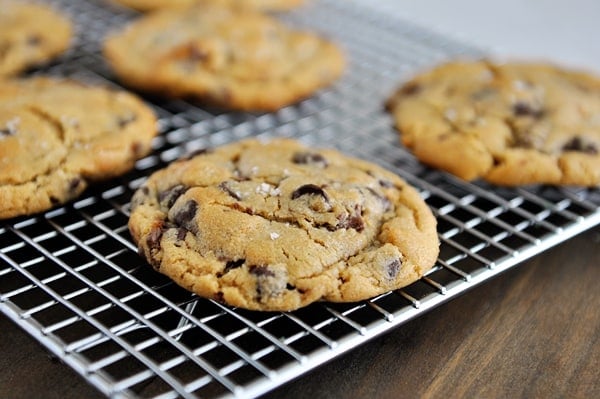 mel's kitchen cafe